Why a Guilty Plea Could Get You Deported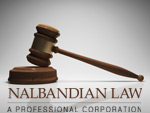 When immigrants are arrested for a criminal offense, they call a criminal lawyer to defend them. Sounds like a good idea, but often it's the first step down the road to deportation. That is because criminal lawyers more often then not fail to consult with an experienced immigration attorney. Because of their lack of knowledge of immigration laws, criminal lawyers don't realize that the best plea for a U.S. citizen could, in fact, be the worst plea for an immigrant in your situation.
Your Best Defense Against Criminal Deportation
"If you are not a U.S. citizen, before you enter a guilty plea, insist that your lawyer contact an immigration lawyer with experience helping aliens avoid criminal deportation," said expert immigration attorney Sassoun A. Nalbandian of Nalbandian Law in Los Angeles.
The attorneys at Nalbandian Law routinely handle a larger percentage of criminal immigration cases. They know from experience that criminal immigration laws—fraught with nuances and open to interpretation—are the most complex and complicated body of law in the judicial system. Although a certain type of guilty plea for a criminal offense may have the best outcome for a U.S. citizen, that same plea can have devastating and potentially irreversible immigration consequences for an immigrant. "Even if you are facing deportation, don't lose hope," Mr. Nalbandian said, "because we can still fight your case if you are placed in removal proceedings."
We Don't Replace Your Criminal Lawyers—We Consult with Them
Once your attorney contacts Nalbandian Law and explains your criminal charges, Mr. Nalbandian will carefully prepare a criminal research opinion letter which identifies the specific kind of pleas your attorney should enter in order to avoid any negative immigration consequences for you.
"Our job as an immigration law consultant to your attorney is to choose the best possible plea that either avoids immigration consequences or, if that's not possible, gives you the best chance of getting your removal proceedings cancelled, (i.e. keeping your green card)" Mr. Nalbandian said. "Your criminal lawyer can then show the letter to the judge/prosecutor to make sure achieve the best possible plea for immigration purposes."
Criminal Immigration Laws Change Constantly
Criminal laws change on a daily basis, making a tough situation even trickier. For example, certain drug crimes that once were not deportable crimes are now deportable. Firearms and commercial burglary crimes may no longer be deportable offenses.
Mr. Nalbandian said, "we could always recommended different sections of the criminal code that could help avoid deportation in your case."
Staying on Top of Immigration News
An important part of our job as criminal immigration experts is to stay on top of changes in immigration law every day so that our clients can always be in the best position to benefit from them," said Attorney Nalbandian.
The attorneys at Nalbandian Law are active members of the respected American Immigration Lawyers Association (AILA). We have access to the most comprehensive databases of information about immigration decisions, so we are always up to date on developments that can strengthen your case.
Schedule a Consultation Today!
Call Nalbandian Law at (818) 244-0310 or contact us online for a personal consultation with attorney Sassoun A. Nalbandian to discuss your criminal/immigration case in detail.